AlphaGraphics is Your
Local Full-Service
Copying and Digital Printing Partner.

Copying and Digital Printing Solutions

Your Complete copying & Digital Printing services company.
Partner with AlphaGraphics Today and Discover High-Quality Color and Cost-Efficient Black & White Digital Printing Solutions.
Full-Color and Black & White Digital Printing Options.
Choose from high-impact full-color or cost-efficient black and white digital printing for your next copying and digital printing project. Ask an AlphaGraphics professional today how high-quality full-color digital printing can help your charts and photos deliver high-impact results. Economical high-quality black and white reproduction is great for text heavy documents and can cut time and cost.
Complete Size, Paper, Finishing & Binding Options.
Convey the right message with a wide range of paper and finishing options. Choose from standard, watermarked, cover stock and colored paper substrates, single or double-sided printing, tab insertion/printing, simple stapling, 3-hole and custom paper drilling, extensive binding options, lamination, shrink wrap, collation and complete distribution services— we have the right options to meet your copying project's goals. Choose from custom or standard sizes including 8.5" x 11" (Letter), 8.5" x 14" (Legal), 11" x 17" (Tabloid), 12" x 18" (Tabloid Extra) and more.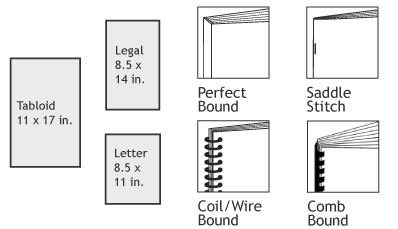 Complete High-Volume, Short-Run and Print-On-Demand Copying and Printing Services.
Our high-speed printing systems provide flexible leading-edge production solutions for legal, medical, corporate, educational, small business and personal copying projects. Ask an AlphaGraphics professional today how digital print-on-demand (POD) services can reduce cost and time by quickly producing only the quantity you need.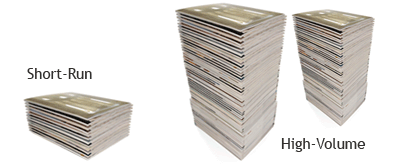 Get Started Today.
Contact an AlphaGraphics Professional Today to Start Your Copying and Digital Printing Project.
Print-On-Demand Services
Ask an AlphaGraphics professional today how print-on-demand (POD) services can help reduce cost, time, waste, obsolescence and the need to maintain large inventories by quickly printing just the quantity you need— when you need it. On-demand and digital printing allows for content changes as frequently as you need and can help add cost-effective flexibility to projects that may require multiple versions of the same print item for specific markets or customers.
Commitment to Quality
AlphaGraphics workflow solutions in pre-press, printing and finishing ensures optimized productivity and increased quality. Our workflow is based on ISO 9001:2008 standards and incorporates lean manufacturing philosophies which allows us to meet or exceed your project's objectives with ease.
Value-Added Layout & Design Services
Whether you supply press-ready files or we design it, our experienced layout & design, creative and prepress team will ensure your copying and digital printing projects are produced cost-effectively and according to your project specifications start to finish. We are a one-stop solution for your design, printing and marketing projects.
Get Started Today and discover Complete copying and Digital Printing Solutions.