AlphaGraphics is Your Full-Service Trade Show Display, Exhibit and Marketing Material Solutions Partner.

Convention and Trade Show Materials Solutions

Complete Convention and Trade Show Display, Exhibit and Marketing Material Solutions.
We are a One-Stop Exhibit Display and Marketing Solutions Provider That Will Get Your Trade Show Booth and Message Noticed.
Complete Indoor Display and Exhibit Solutions.
Our indoor display and exhibit signage solutions include standard and custom panel displays and graphics, pop up towers, life size cutouts, cutout displays, exhibit graphics, table top displays, kiosks, table tent displays and more. Whether you are promoting a sale, designing a new trade show booth or developing a kiosk solution, AlphaGraphics Signs can help ensure your convention or trade show booth gets maximum visibility. We offer complete installation and site survey services. Call or click today to get started.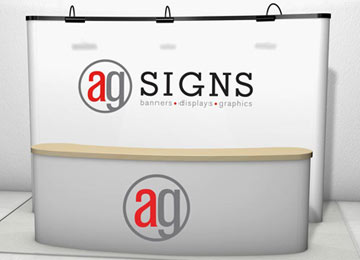 Indoor Banner & Fabric Sign Options.
Indoor banner and fabric print applications include trade show banner stands and exhibits, wall murals, art prints on canvas, backdrops, and photos on canvas. Indoor banners can be finished with hemmed edges, reinforced webbing, grommets and pole pockets depending on your application. Our banner hardware solutions include durable pop up, retractable and telescopic stand hardware options including installation and carrying cases. Not sure what type of banner hardware and substrate you need? We're happy to discuss your trade show project— contact us today to learn more.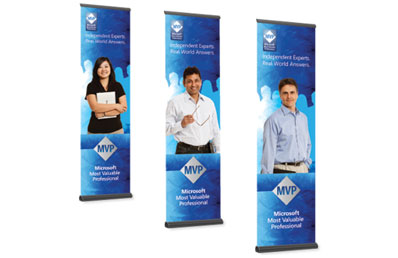 Custom Marketing and Promotional Products and Services.
Whether you need custom printed business cards, trade show dailies, postcards, brochures, catalogs, flyers, newsletters, sell sheets or branded promotional product ideas, we have the right solutions for your convention and trade show marketing needs. With our nationwide network of business centers, we can help distribute your trade show material quickly and cost-effectively. Ask an AlphaGraphics professional today how targeted direct mail, personalized microsites (PURLs), email marketing and QR codes can help get the word out to your exhibit audience before, during and after your convention or trade show.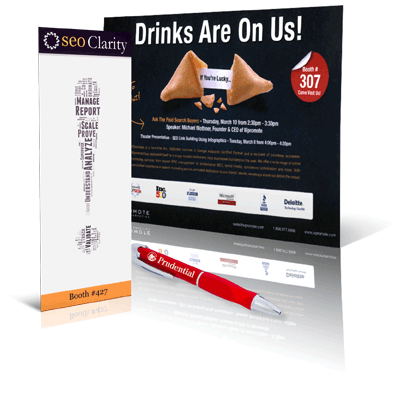 Get Started Today.
Contact an AlphaGraphics Professional Today to Start Your Trade Show Materials Project.
Shipping and Local Delivery Services
Ask an AlphaGraphics professional today about convention and trade show materials pack, ship and delivery services. We offer professional packaging including standard and custom packages, express or ground shipments and convenient local delivery services.
Complete Window, Wall and Floor Graphic Solutions.
Window, wall and floors are excellent surfaces whether you want to provide a subtle image, simple information or a bold statement. We have solutions for interior and exterior applications. To learn more, contact an AlphaGraphics professional today or click here to learn more.
Value-Added Layout & Design Services
Whether you supply press-ready files or we design it, our experienced layout & design, creative and prepress team will ensure your convention and trade show materials projects are produced cost-effectively and according to your project specifications start to finish. We are a one-stop solution for your design, printing and marketing projects.
Get Started Today and discover Complete Trade Show Materials Solutions.